How to Spend 15 Unbelievable Days in Italy: Where to go, What to do & Much More
This article may contain affiliate/compensated links. For full information, please see our disclaimer here.
Italy
After spending 15 days in Italy it's clear to me why so many people return time and time again. This country is truly magical! We barely scratched the surface on amazing places to go during our recent trip. I'm definitely scheming about where to go next time. Because there definitely will be a next time! Our days were filled with museum & cathedral visits, amazing food & wine and the most stunning Italian cities. I cannot recommend a trip to Italy enough! Italy has earned a firm "to return" status due to the research I've done! I'm sure you will love Italy just as much. So lets get into some more specific details on when you should go and what we did during our trip to Italy for 15 days.
When to go to Italy
Italy like many European countries is typically the busiest in the summer months (June-August) so if you can avoid those months I would. Shoulder seasons in my opinion are always the best! You will still enjoy great weather, but the crowds will be a little thinner. So, April to May or September to October.
Originally my husband and I planned to visit Italy in April of 2020 but we all know what happened (insert the panny here). We ended up having to reschedule our trip a few times (hey! we were a little overly optimistic or as I liked to say "cautiously optimistic".) Our trip finally happened in September of 2021 and it was well worth the wait! The weather was still really warm and everything was open on the Amalfi coast. (Some destinations in Italy such as the Amalfi coast are somewhat seasonal but most are open through September.)
Where to go in Italy
You really can't go wrong traveling anywhere in Italy! The people are so warm and welcoming and there is dramatic and beautiful scenery whether on the coast, the rolling hills of tuscany or in the eternal city of Rome. This itinerary highlights many of the more popular spots within Italy to visit for your first trip to this amazing country. Because, I'm almost certain you'll be exactly like me and be longing to book a return trip as soon as you get back. (Italy really is that amazing!)
Venice
Venice is so romantic and truly the destination dreams are made of. It's so interesting how different the way of life is here for the Venetians. Watching how the trash is collected and dodging through so many tourists on all of the bridges around this island. The farther from St. Marks Square you are, the more you will experience the "real Venice". But, definitely see the sights that are more touristy but immerse yourself in more local Venetian culture too. Visiting in September of 2021, the crowds were really light so we were really lucky to experience the city with less people.
Cinque Terre
The Cinque Terre (in Italian this means 5 lands) is comprised of 5 different small fishing villages set along the rugged Italian Riviera seaside. The five fishing villages are Monterosso, Vernazza, Corniglia, Manarola & where we stayed in Riomaggiore.
Pisa
Yes, we ventured to the city known for it's leaning tower! We were only there as a quick enroute stop and it was worth it to see all of the tourists trying to get their famous "holding up the tower" photos. And I may or may not have been one of them. (Hey! when in Rome, or Pisa I guess?)
Florence
Florence is the largest city in Italy's tuscany region although not a large city at all. The epicenter of Renaissance art and architecture it is brimming with history and culture. If you love museums, Florence definitely needs to be on your Italy itinerary! The Duomo located in Florence is a beautiful terra cotta domed cathedral that is a must see.
Amalfi Coast: Positano
The Amalfi coast is comprised of several different cities. It's technically an area in Italy of 34 miles within the Campania region. Within the Amalfi coast there are 13 cities. (Positano is one of the most posh and well known as it's absolutely gorgeous.) You've likely seen photographs of Positano. This area of Italy is known for growing lemons & producing limoncello. How fitting that I had an amazing limoncello spritz here! (Definitely try one of those, especially if you aren't a fan of Aperol!)
Similar to Cinque Terre, Amalfi coast is known for dramatic seaside cliffs. But many Italians and foreigners alike flock to this area for the beaches and a relaxing get away. The Amalfi Coast is special due to the fact that it's considered a UNESCO world heritage site.
Rome
Rome, the eternal city. Before visiting Rome, I was expecting to not love it just because it's a larger city. Sometimes larger cities (even in Europe) don't always have as much character or charm. Well, I love being proven wrong because I absolutely loved Rome! Sadly we didn't dedicate as much time to Rome as we should have. We still managed to pack in a lot of great things in a short amount of time! More about that in the 15 days in Italy itinerary below.
15 Days in Italy: The Itinerary
Realistically our trip was 16 1/2 days that we were gone. But it included 14 full days and a few half days of activities and things that we did within Italy. So here are the details of our 15 days in Italy.
Arriving in Venice
Arriving in Venice, we waited awhile to get a vaporetto (water bus) from the airport to the hotel. Just follow the signs at the aiport for the "Transporti via acqua/Water Transport". The vaporetto is a floating bus with many other people so we had to wait for the next available boat. One bit of advice, make sure you know which stop to get off at that's closest to your accommodation. This will eliminate you dragging your luggage over more than necessary bridges! (You can thank me later.) Your hotel should easily advise you of the nearest stop prior to our arrival.
Day 1 of 15 days in Italy: Venice
What to do in Venice: Day 1
Our first full day in Venice consisted of a lot of the classic Venice sites: St. Marks Basilica & St. Marks Square as the first stops. (Tip for the ladies: be sure your knees & shoulders are covered for the basilica visit!) Afterward, we walked along the promenade Riva Degli Schiavoni that includes the Bridge of Sighs attached to Doge's Palace.
There were some additional things we wanted to see in Venice including: the famous bookstore with photo ops in the back: Libreria acqua alta. It was really cute and I loved the fact that it was so packed full of books and there were literal gondola's in the store full of books. But, because of the fact that many people have hyped it up on social media the the store was really packed. Be prepared that the photo opportunities had a line. It wasn't super long to wait though, but we also were really lucky to be in Venice when the crowds weren't out of control.
Scala Contarini del Bovolo is a beautiful palazzo that you can tour. We ended up just seeing it from the outside as I wanted to go to the San Giorgio Magiore church more. So that was the last thing sight seeing thing we did of the day. We took the vaporetto to San Giorgio Magiore church to marvel at the view of the city of Venice from the bell tower with a birds eye view. I would definitely recommend this! While you're strolling throughout Venice, it's easy for it to feel like a maze of bridges that never ends but it actually is somewhat of a small (but beautiful) city.
Cicheti & beer
After returning back to the main part of Venice via vaporetto we set out on a mini cicheti tour. We went to a few different beer bars that had cicheti offerings as well. More about the specific beer locations in my Italian Beer Guide.
Cicheti is something that is unique to Venice. It honestly was one of my favorite things! I'm sure a Venetian would scoff at my explanation of it, but it's kind of like tapas. Small plates/small bites done in Venetian fashion. Many of the offerings have fish or seafood so if you have an allergy or adversion I would be cognizant of that when selecting your cicheti. Many times this is served with a smaller glass of wine white (or red) and its referred to as an ombra.
Day 2 of 15 days in Italy: Venice
What to do Venice: day 2
Our second full day in Italy, we headed to Doge's Palace for a tour. I really wanted to do the secret itineraries tour, but because traveling was changing so rapidly due to the pandemic I waited longer that I usually do to book tours and there weren't any English ones left for the day. But, the main self guided tour was great! The thing I really wanted to do was walk across the Bridge of Sighs which everyone can do. I thought it was only a part of the secret itineraries tour, but that's definitely not true.
Head out of Venice: Murano & Burano
After spending the morning at Doge's Palace, via the vaparetto we ventured to the islands of Murano and Burano. Murano is located about a mile north of Venice proper and is most well known for their local artisans and glass blowing. While Burano is a super cute and colorful fishing town with canals and bridges similar to Venice. Burano is well known for their handmade lace and their delicious Bussola cookies. The bakery we bought them from had many tasty flavors to choose from.
I would definitely recommend going to these outer islands from Venice. There was an added layer of travel stress/blunder for us because of the fact that there were regatta races in Venice in the Grand Canal so some of the vaporetto lines were discontinued for awhile and getting back to Venice we waited in line for a long time. But, these are the type of things you can't always plan for and it makes for memories about your trip that you'll always remember.
Of course we went back to enjoy more cicchetti and actually went to what I thought was a beer bar but it actually ended up being a wine bar. The Cicchetti and wine was delightful though! We decided to just grab some quick pizza and beer and eat in the hotel before turning in for the night.
Day 3 of 15 days in Italy: Venice & Prosecco Region
Day 3 in Venice: head to the Prosecco region
When originally planning to visit the prosecco region from Venice, I wasn't sure whether to look at a tour or do it independently. I stumbled upon The Sparkling Vinos while doing my research. We ended up booking a tour with Oriana Balliana. From Venice we took the train to Susegana where Oriana picked us up.
The prosecco wineries we visited were all private tastings and locally family owned. She took us to Marchiori, Gregoletto & RivaGranda. All of the prosecco was absolutely amazing! The real stunner was the last place we had our tasting at was literally in the middle of the vineyard with a 360 gorgeous view of the prosecco hills. That paired with amazing prosecco, meats and cheeses it was a phenomenal day with the sun shining and gorgeous weather.
We returned to Venice via train then set out for a few additional cichetti locations. Capped off the day with some yummy bites, delicious wine then ate gelato as we strolled back to our hotel. This is what Italian (er Venice) dreams are made of! It was a perfect ending to our time in Venice for this trip and 15 day Italy itinerary.
Day 4 of 15 days in Italy: Venice to Cinque Terre (Riomaggiore)
This day was mostly a travel day. I find sometimes being on the trains with a little reading & decompression time is a nice break from walking all over. It breaks it up a little bit. We arrived in Riomaggiore in the late afternoon with enough time to check into our hotel accommodation, grab some beers at a beer bar literally outside our doorstep, then relax on our patio overlooking the ocean with some additional beers. It was the perfect travel and buffer day!
This is where we stayed in Riomaggiore: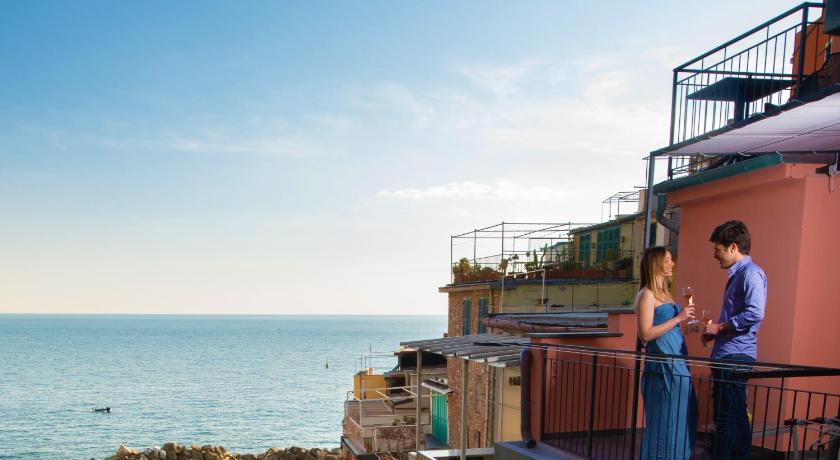 Day 5 of 15 days in Italy: Cinque Terre (Riomaggiore)
The Cinque Terre truly is one of the most picturesque places I've ever been! These cities are dotted with fishing boats with vineyards along the cliffs. It's truly unreal! This area is also a National Park and trekking (or hiking) along the coast is really common. Don't underestimate the effort though! Read more about that here.
Hiking & Getting Around the Cinque Terre
I definitely would have spent more time in this region. It's beautiful and breaking up the hike along all of the cities would have been a good idea. A lot of the hiking is not for the faint of heart and you will have significant elevation gain.
We tried to hike from Riomaggiore to Monterosso in one day via via the Blue trail. While it's doable (if all parts of the trail are open) there were several spots that weren't and the trail that was open added a lot more elevation as well as difficulty. After making it from Riomaggiore to Vernazza. At that point we hopped back on the train to Riomaggiore. We were tired, dirty and hungry. So we took a break and showered, rested and got some food then set out to explore some of the other cities via train.
If you purchase the Cinque Terre card, it includes unlimited use of the hiking paths and the trains between all of the cities. It depends what your plans are if it's worthwhile to buy this or not. We chose to buy the one day trekking + unlimited train rides pass.
Time in the Cinque Terre
I would have stayed at least one day longer on the Cinque Terre. Then, we could have broken up hiking into smaller chunks and hiked a little bit each day and spend the afternoons either by renting a boat or just exploring more of the towns. After attempting to hike the Blue Trail in one day we both were really sore and exhausted.
Day 6 of 15 days in Italy: Cinque Terre to Pisa to Florence
Leaving Riomaggiore on the Cinque Terre coast via train toward Pisa. At the train station in Pisa, you can pay to store your luggage which is really convenient! So, we made our way to Pisa, stored our luggage then set out to explore Pisa for the day/afternoon.
Pisa is extremely touristy and the area surrounding the tower was scattered with people taking the perfect picture "holding up the tower". If you know, you know! We snapped a few then explored the area including the Cathedral and had a leisurely lunch. The cathedral was free to visit, you just had to have a timed entry slot. You can also choose to climb the tower. If that's something you'd like to do, I'd highly recommend buying tickets in advance as each day there are only a limited number of tickets available. It was a really nice chill day for us amidst the travel time.
From Pisa we then traveled by train to Florence which is within Tuscany. We made it to our accommodations and then went and checked out some craft beer bars before we had a quintessential tuscan bistecca for dinner at Il Latini. As we were trying to find the restaurant we nearly missed it and had to double back! Once we found it the dinner was well worth it. It was definitely a splurge but so tasty! You have to try a florentine steak while in Florence.
Day 7 of 15 days in Italy: Florence (Tuscany)
We pre-booked a full day wine tasting tour in tuscany with lunch. They picked us up from our hotel and dropped us off at the end of the day. We were able to visit four different wineries and even had a delicious homemade meal mid day. It really was an absolutely amazing day. I would definitely do a similar tour in Italy again in a heartbeat.
Once we were back in Florence, we hung out at the hotel and freshened up. We had made reservations for the popular Trattoria Za Za. We made a reservation for later in the evening, however when we arrived you had to get in a line to show your vaccine card, then verify your reservation and essentially just wait until you were called. Our reservation was honored a lot later than the time we reserved which was somewhat frustrating. In comparison to a lot of other places we dined in Italy I liked the food & ambiance, however I felt Za za was a little hyped up. We definitely had a lot better meals elsewhere. I'm glad we went but I don't think I'd return.
Day 8 of 15 days in Italy: Florence
We visited the iconic Duomo of Santa Maria del Fiore. There are several different Duomo experiences. We booked tickets including the terraces which was awesome to see the vantage point out over the city of Florence. Florence is so gorgeous! I will say, it wasn't super clear which line to go to for our tour and the main line can take awhile so be sure to check where you should go if you prebook an experience.
After the duomo, we saw the iconic statue of David at the Galleria del accademia. I'll be completely honest, I'm not a huge museum person (especially art museums.) But, seeing the statue of David in person was a fantastic experience. I would definitely recommend it. If you can purchase skip the line tickets, it's so worth it!
Piazalle Michelangelo has a spectacular view out over Florence. It's definitely something to not miss when you're in Florence! See the photos below:
After the museum, grabbing lunch and going to the Piazale Michelangelo, we strolled across the Ponte Vecchio. The Ponte Vecchio is a medieval bridge in Florence with shops across it. The area was really congested but I just love the use of space including shop fronts and apartments above across the whole bridge. After walking through the area I got into the habit of checking out every gelato shop we passed. If any flavors sounded good I'd definitely get a scoop or two to enjoy as we walked along. (I kept a list of all of the flavors I tried and denoted my favorite flavors- some were so unique!)
As we were walking about, we made way to the Florence leather market. The only thing I don't like about these type of shopping scenarios is the bartering. I did end up purchasing a small bracelet but I felt like the shop owners were pretty ruthless so we didn't spend a lot of time perusing.
Day 9 of 15 days in Italy: Florence to Naples to Amalfi Coast (Positano)
We set out to make our way to Positano, but spent a partial day in Naples at the Archaeological museum. If ancient history & civilizations such as Pompeii interest you, you will really enjoy seeing all of the artifacts and details on display here. The exhibit on the Roman gladiators was my favorite!
This was quite the travel day from Florence to Positano! Part of why it was so long was the bus situation once we reached Sorrento. It was a Sunday and we didn't take into account the fact that buses don't run as frequent from the Sorrento train station to Positano. We waited quite some time! Read more about this in my Italy tips.
Finally on the bus to Positano, it's important to understand where you're staying and where the closest bus stop is in proximity to the accommodation. By the time we were on the bus it was dark out and we weren't familiar with the bus stops and there really wasn't an indication or announcement of each bus stop. It was definitely a stressful experience!
Arriving later at night we were relieved to find out that since we weren't really in "downtown" area of Positano many of the local restaurants will provide a free shuttle for dinner. On a return trip to the Amalfi coast area, I'd stay in Sorrento vs. Positano due to the connectivity of trains and you can still get to Positano and other areas as day trips.
Day 10 of 15 days in Italy: The Amalfi Coast (Positano)
The next day was one of the most relaxing days during our time in Italy. We didn't have any solid plans and just walked into Positano and shopped, took in the beautiful sea views, had a leisurely lunch, got gelato and soaked in the Amalfi coast culture.
We had considered taking a ferry to Capri for the day. That's definitely something that I have archived in my things to do on a return trip file. It looked really easy to do. There were several stands coordinating trips to Capri down by the beach area in Positano.
One of the highlights was visiting Franco's bar for happy hour. A gorgeous al fresco bar with an amazing sea view. The craft cocktails were delicious and it was a relaxed atmosphere as we chatted with a newlywed couple sitting adjacent to us. It seemed like we kept running into many young couples on their honeymoon during our time in Italy. We honeymooned in Ireland, but as our time in Italy went on it was easy to see why so many couples choose Italy as a honeymoon destination.
Day 11 of 15 days in Italy: Positano (Pompeii)
While we were staying in Positano we traveled to the Pompeii ruins. From Positano you can navigate to Sorrento via bus or taxi/private transfer. Once at Sorrento's train station you can take the Circumvesuviana train right to Pompeii. It takes just over a half hour and you want to exit the train at the Pompeii Scavi then is a very short walk from the train station to the entrance of the Ruins.
If you're visiting independently, there is very little signage or context at the ruins. We booked a two hour tour that gave us a lot more context and background surrounding the things we were seeing. From there we explored a few additional hours ourselves. I was truly in awe by Pompeii and would recommend visiting if you have the time or it makes sense within your time in Italy. It was one of my absolute favorite things we did in Italy. Read more about the specifics of visiting Pompeii here.
Day 12 of 15 days in Italy: Positano to Rome
Our last day in Positano we rose early and set out to our last location during our time in Italy, Rome. Due to frustrations with transportation getting to Positano, we scheduled a taxi transfer directly from our hotel to the Sorrento train station. From Sorrento the train to Rome you travel from Sorrento then switch trains at Naples to continue on to Rome.
Once we arrived in Rome and checked into our hotel we checked out a few beer bars & had dinner. Trevi fountain & Spanish steps all lit up at night.
Day 13 of 15 days in Italy: Rome
Our first full day in Rome, we stayed really close to the Campo de Fiori (market) so we walked through here first thing in the morning.
Next stop, Vatican City to meet our tour guide. Enroute to Vatican City we walked across the Pont Sant' Angelo and viewed Castel Sant' Angelo from the outside. We met our tour group just outside the Vatican for our tour through the Vatican Museums & Sistine Chapel. You really could spend days in Vatican City but with the time we spent on our tour, we got to see a lot of the highlights and it was definitely a great investment to get great context in regard to what we were seeing. After our tour was over we independently visited St. Peters Basilica.
We had lunch somewhat nearby at a place that was recommended to me by another blogger. They were so hospitable and the food was great! It was a pizza shop that was close to the Vatican (but not too close!) I'm always leery of bars and restaurants that are too close to tourist destinations. Especially if they have pictures on menus plastered outside and someone trying to lure you into the restaurant. Literally run as far as you can away from these places!
Day 14 of 15 days in Italy: Rome
Our last day really went out with a bang, we started early and had a late night before turning in and heading to the airport the next day to close out over two weeks in Italy that went by in a flash.
Trevi Fountain
We woke up really early as we wanted to see the Trevi Fountain with minimal others. In fact, we had it to ourselves for about 20 minutes before a few other couples came and had the same idea. It was so worth it! From there we traipsed to the Pantheon where it was nearly empty.
It was somewhat of a dreary morning and it ended up starting to rain. We had some time to kill before meeting our tour guide so we made way toward the Coliseum and had a very Italian breakfast of a coffee & croissant while we waited out the rain.
Coliseum & Roman Forum
At 10 am we met Elena for a Coliseum & Roman Forum private tour. She answered all of our crazy questions and it really was a highlight of the trip. Seeing the Coliseum from many different vantage points was beyond jaw dropping. Especially where the gladiators would rise from below to ground level was very eery exploring this part of the historic structure. You can only get access to this part of the Coliseum with a tour guide and there are limited number of spots each day. Contact Elena & Assunta to add it to your itinerary.
One bit of advice, while at the Coliseum it can get very dusty so if you suffer from seasonal allergies be sure to take some allergy medication in advance!
Get your fill of pasta & wine
After the tour, we strolled along to find (unknowingly) a restaurant I had on my list for a dinner that we ended up having a late lunch at. It was absolutely delicious! (The Trastevere area of Rome is where a lot of locals hang out to eat and drink.)
Wine pairing dinner
To cap the day off, we had a wine pairing/tasting dinner booked at Rimesa Roscioli. It was a really fun experience meeting some other couples from around the world. Particularly we chatted with a couple from Norway and we ended up staying after the tasting and having a few more glasses of wine because we were having such a good time. It's so interesting to chat to ask silly questions about life in their country and gain a whole different perspective about how others around the globe live.
Day 15 of 15 days in Italy: Rome & Home
Our last day, we really didn't have much time other than packing up, grabbing breakfast then heading to the airport. We did have to take a COVID test at a pharmacy the day before and were really happy to find the process of showing our tests, passports and checking in at the airport in Rome to arrive back to the United States was really quite seamless.
15 full days in Italy wasn't nearly enough. But, we were really fortunate to pack in and see all that we did. Fair warning, if you're more of a leisurely style traveler you'll want to cut down the amount of places you visit because we were constantly on the go trying to see and do it all. But, that's just how we travel to maximize our time and see the most we possibly can. However, not everyone is like that!
Italy is one of those really special places. When you're there you're truly in awe at the amazingness….how can the scenery be beautiful, the wine and food be delicious and the people be so warm and welcoming? It's really true. We left Italy longing to return again soon.
More Italy Travel: