Breweries to Not Miss on the North Shore of Minnesota
This article may contain affiliate/compensated links. For full information, please see our disclaimer here.
Craft Beer in MN
Minnesota really has a great beer scene! Mostly across the suburban area of Minneapolis/St. Paul. However, there have been many more breweries popping up in smaller towns such as Bemidji & along the North Shore of Lake Superior starting with a plethora of awesome spots to grab a brew in Duluth, MN and a few places even more North along the lake.
North Shore of MN Breweries
The North Shore is my favorite part of the state of Minnesota. It's close enough to go for a long weekend, yet you'll definitely want to stay much longer. It's dotted with State Parks and is along the shore of the mighty Lake Superior. What's better than spending time hiking, on a lake and outdoors in Minnesota then enjoying a delicious beer (preferably on a patio)? Drinking beers around the campfire during spring, summer and fall are some of the best memories I have of growing up in Minnesota. So let's dive into the breweries starting with the south side of the North Shore, the city of Duluth, MN.
Duluth, MN is the gateway to the North Shore and one of my favorite cities in all of Minnesota. Over the years, like the rest of the state of Minnesota they've seen an increase in the number of breweries. Here's a list of favorites:
Bent Paddle
Bent Paddle is definitely a MN classic. One of my favorite brews here is their cold press. They've tried a lot more styles over the years. They've even expanded their taproom! It's set up so well to check out some of the nearby restaurants. A super good barbecue restaurant (OMC Smokehouse) is so convenient to their taproom (pictured below.)
Hoops
Located in the really fun area of Canal Park in Duluth, MN is Hoops brewing. There are many fun restaurants & hotels in this very walkable area to explore. Duluth is a great long weekend or longer destination either on your way to the North shore or after.
Blacklist
A multi faceted location. Blacklist Brewing has a taproom with beer & seltzers, food & also axe throwing! It's the perfect location for a few brews and a fun activity.
Ursa Minor
Ursa Minor has such awesome tables. Literally mesmerized by the custom tables that are maps of the local area. You can see in the photo below. Ursa Minor also has a patio and outdoor area that has fire pits when the air is a little on the chilly side.
Wild State Cider
While I'm normally not a huge cider fan, the variations here are amazing! There are a lot of different seasonal fruit offerings as well as cider that is more dry. A lot of it really reminded me more of wine and was so refreshing! If the weather is nice, they also have some great outdoor space.
Fitgers
Get the apricot ale and the wild rice burger. Trust me on that! Fitgers is the OG when it comes to breweries in Duluth. So definitely be sure to stop in here for a brew and a bite.
North Shore, MN Breweries
Beyond Duluth, MN and Superior, WI where a bulk of the breweries are on the North Shore there are a few additional stops you'll want to be sure to make. What makes breweries on the North Shore of MN so special is the fact that they brew with Lake Superior water. Water, one of the key ingredients that can really change the balance of flavor in whatever style of beer you're brewing.
Castle Danger (Two Harbors, MN)
Castle Danger has a great sprawling outdoor space when the weather is pleasant. Visiting in the early fall it was a beautiful day. They don't have food onsite typically however sometimes they will have a food truck in the back area. Dogs are welcomed on the patio so bring the whole family after an outdoor adventure, even your furry members of the family!
Added bonus which would be huge points for kids (I'll admit I enjoyed it too!) is that a train frequently passes by in the back of the outdoor patio.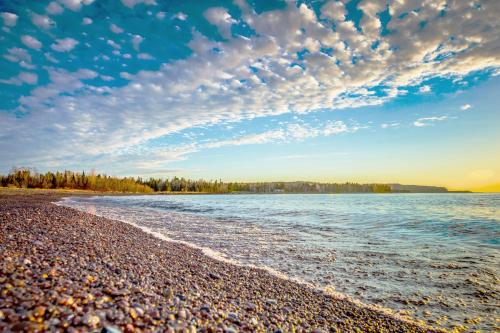 Grand Marais, MN is one of the best cities along the north shore. They even have a brewery! The patio has an amazing view of Lake Superior and dogs are also allowed on the patio. Definitely a great spot in a super chill up north town.
Beyond North Shore Breweries-More Beer & Travel: