Things to do to Have a Great Time in the Twin Cities
This article may contain affiliate/compensated links. For full information, please see our disclaimer here.
About the Twin Cities
The Twin Cities in Minnesota consists of Minneapolis and St. Paul. (Typically, if you're a local you prefer one over the other. If you know, you know!) Across this metropolitan area in Minnesota, it inhabits over 3.1 million people. About half of the states population is located in the greater Twin Cities metro area. There are many great things to see, do, eat and drink across the whole metro area. So, lets not waste any further time and dive right in to the juicy details!
Minneapolis
Minneapolis is located to the west of the two cities and is generally considered "the younger" "more hip" of the two. Many dive bars and craft breweries are located in the Northeast area of Minneapolis (sometimes referred to as "Nordeast"). In Minneapolis, a lot of the buildings, restaurants and establishments are newer in comparison to its counter part twin city of St. Paul. But really, there's something for everyone across both Minneapolis, St. Paul and the vast amount of suburbs in between and beyond that make up the metropolitan area.
St. Paul
St. Paul is the capitol of the state of Minnesota. There are many very historic neighborhoods & private colleges located in St. Paul. To me it just has a lot more of an established, older almost European vibe in some of the areas. With Victorian homes and so much history, it's an absolutely gorgeous city to visit and explore.
What to do in the Twin Cities: Minneapolis
The sky way in downtown Minneapolis consists of over 80 city blocks and 9.5 miles of continuous indoor bridges and system to walk inside within an enclosed environment. It connects many different businesses and is really convenient especially in the cold winter months. Businesses accessible via the skyway consist of corporate offices, restaurants, bars, retail stores and really pretty much anything you could think of.
Some of the downtown Minneapolis hotels are on the skyway system making them a great place to stay! Just a few of these hotels include: W Minneapolis at the Foshay, The Marquette Hotel, Hilton, The Chambers Hotel, Loews Minneapolis, Radisson Blu Minneapolis Downtown, Radisson Red, The Westin, Hotel Ivy.
Nicollet Mall essentially is a mile long outdoor pedestrian mall in downtown Minneapolis. A very hopping area during our gorgeous summer months. There are many outdoor patios from bars and restaurants to enjoy along this area. It's a great place to spend an evening or afternoon to go for a stroll during the spring or summer when visiting Minneapolis.
The outdoor sculpture garden behind the Walker Art Center is open year round. However, in the spring and summer the main sculpture that has become an icon of Minnesota, the Spoonbridge and Cherry has a water fountain from it making it even more fun to see. In the neighboring Loring Park, year round events usually occur in this green space. Loring Park and the Walker Art Center is located nearby the beautiful and iconic Basilica of Saint Mary. The basilica of St. Mary was the first basilica in the United States! Truly a landmark and cultural icon for Minneapolis, the state of Minnesota and the United States.
Stone Arch Bridge & Mill City Ruins Park
The Stone Arch Bridge has one of the best views of the downtown Minneapolis skyline. Near the bridge, Mill Ruins Park is on the west side of Saint Anthony Falls and features history of Minneapolis. These ruins highlight the history of flour milling and a handful of these factories that were abandoned. It's a really fun area for a stroll from downtown Minneapolis. The Stone Arch Bridge is one of the busiest and most popular pedestrian bridges across the river in the area but definitely worth the trip!
Minnehaha Falls is located within Minnehaha Regional Park. A true outdoor oasis in the middle of an urban setting. You can view the falls from above or take the staircase down to get closer to the falls. From there you can continue on the trail past the falls for a hike. Be weary in the winter this area can get really icy. It's best if you're planning on taking this route in the fall, spring & summer. However, the falls are so beautiful both when flowing and frozen. You really can't go wrong visiting during any season! Expect it to usually be pretty busy as this is a very popular spot in the Minneapolis and metro area. If you're planning on visiting on the weekend getting there early to secure parking is imperative.
Loop the chain of lakes (run, bike or walk)
A perfect evening or afternoon can be spent looping the lakes in Minneapolis. The Lakes of Bde Ska Ma (formerly Lake Calhoun), Lake of the Isles, Lake Harriet & Cedar Lake are close enough together and linked with the paths to either run, bike or walk. If you don't have a bike but want a rental, Wheel fun rentals are available in this area.
Lake Harriet Bandshell
The Minneapolis park and recreation offers music and movies in the park at the Lake Harriet Bandshell during the warm summer months. It's a great time to bring a blanket, snacks & drinks to enjoy a lovely evening in the park with friends or family. Even beyond the Lake Harriet bandshell, other Minneapolis parks show movies and offer music events as well during the summer. Each year there is a full calendar that's published giving information on what movies will be shown where and when. So you can definitely plan ahead!
There are many bike paths located all over the Minneapolis area as well as the state of Minnesota. If you don't have a bike or don't want to rent one, you could always get a group together and do a pedal pub in Minneapolis or rent a Nice Ride bike or a bike through Wheel Fun Rentals. There are so many options to bike all over the Twin Cities and Minneapolis has been ranked as one of the most bikeable cities in the country.
US Bank Stadium & Target Field
Home of the NFL team The Minnesota Vikings, US Bank Stadium is a gorgeous stadium and venue. Typically, there are several concerts that are hosted in the venue throughout the year as well as Viking's games during the football season.
Target Field is also located in Minneapolis, downtown and is the ball park for Minnesota's MLB team the Twins. When there isn't a game or event going on, there are tours available where you can see the venue by booking a 90 min guided tour. Target Field also books out as a venue for events and occasionally they will host an outdoor concert series during the summer as well. It's one of the best views of the downtown Minneapolis skyline.
While you're in Minneapolis, if you're hoping to go to a theater performance, The Guthrie Theater would be the place to go. You can secure tickets in advance but not only going there for a performance the Guthrie also offers a store and tour of the magnificent facility.
An iconic concert venue located in Minneapolis since the 1970's has seen many up and coming artists that became well known. This is where Minnesota local, Prince got his start. (Speaking of Prince, there's also a a museum located in the Southwest suburb of Chanhassen called Paisley Park.) The venue First Avenue is located on 1st Ave in downtown Minneapolis. Even if you aren't planning on catching a show there, the outside walls with the well known star mural is worth a visit as it pays tribute to many iconic music artists.
Craft Beer Breweries all over the Twin Cities
Many of the craft beer breweries in the Twin Cities are located in Minneapolis. Northeast Minneapolis is known to have a lot of dive bars and breweries and is a really fun place to hang out. However, there are many that are spread across the suburbs and St. Paul as well. Click here to check out my favorite breweries across the Twin Cities. Trust me, I've been to nearly all of them and scoped them out for you!
Midtown Global Market
A very fun internationally themed market with stalls inside selling food & other goods from different vendors. Coming to Midtown global market is a way to truly travel all over the world without even leaving Minnesota. This is a great thing to do when the weather is cold or not the greatest as you can stay inside.
Eat some great food
Minneapolis is known for being the home of the juicy lucy burger. There are a few restaurants in Minneapolis that claim to be the original creator of the juicy lucy. That just makes it more fun because then there are many places across the twin cities you could try! I definitely have my favorite not only because of the juicy lucy there but there's also an appetizer that is so delicious that I always have to get as well. Take a peek here and see if you can determine which location is my favorite. You definitely want to try a juicy lucy out while you're in the Twin Cities if you're a fan of cheeseburgers, just trust me on this one.
Beyond cheeseburgers, the options for food are endless with so many places offering brunch, great taco restaurants, barbecue, pizza, ethnic food and many of them are great local gems to try. Definitely seek out some non chain restaurants although the Twin Cities has an abundance of chain restaurants as well.
Scope out a great view of the downtown Minneapolis skyline
Although Minneapolis has a smaller downtown area in comparison to other metropolitan cities, its skyline is spectacular. While you're here, taking in a view of the downtown skyline is something that you definitely want to experience!. Here's a list of locations of where to go to get the best vantage point.
What to do in the Twin Cities: St. Paul
Hotels in St. Paul: A few pictured below Hyatt Place St. Paul Downtown, InterContinental St. Paul Riverfront, Covington Houseboat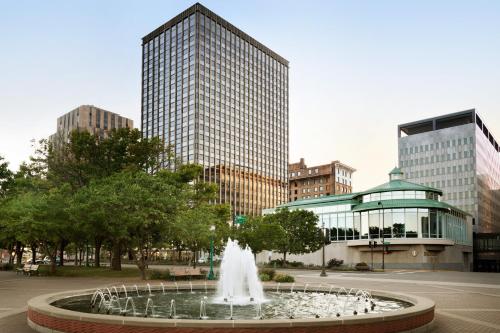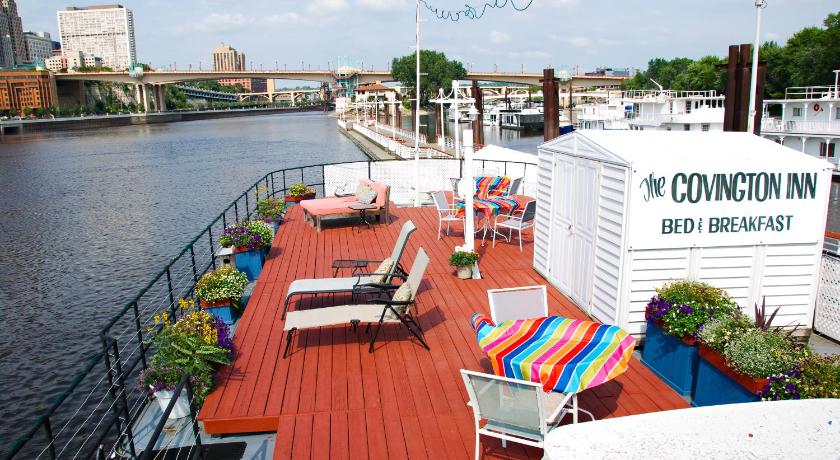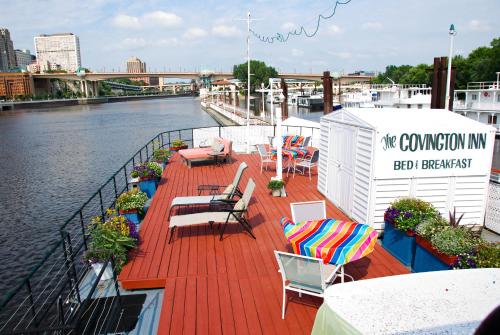 The state capitol is truly a gorgeous building as it was built in 1905. You can learn about the history of the architecture by taking a guided tour of the building.
CHS Field & Xcel Energy Center
Located in the fun Lowertown area of St. Paul, CHS field is a baseball field that hosts the triple A minor league team, the St. Paul Saints. Triple A baseball games are in a much smaller venue and way more interactive vs. MLB games. In addition, CHS field hosts other fun events such as the summer beer dabbler. Plus, the Lowertown area that CHS field is in can't be beat!
The Xcel Energy Center is the home to Minnesota Wild the NHL hockey team for Minnesota. The venue is otherwise referred to as "The X". This venue is attached to the St. Paul Rivercenter and throughout the year hosts other events such as conventions and concerts. Its location is close to a lot of bars and restaurants including the Science Museum of Minnesota.
Can Can Wonderland is located right next to one of my favorite breweries that is highlighted in the top 5 breweries to visit in the Twin Cities. It's a really fun vintage flair arcade for adults. There's unlimited arcade games, a pour your own beer (and cocktails) station and a full bar with food. In addition to the arcade games, you can also choose to play mini golf. The themed mini-golf round is so fun and all of the holes are really interactive. This is definitely a fun place to spend an evening or a rainy day.
The Science Museum of Minnesota is located in St. Paul near the Mississippi River and the St. Paul Rivercenter/Xcel Energy Center. Many of the exhibits and experiences here are interactive making it a fun destination for anyone. Some exhibits are permanent while others only temporary. Be sure to take a look at whats currently being offered before you visit.
The Minnesota History Center located in St. Paul is a museum and library that has exhibits available showcasing the state of Minnesota's past. Many of them being very engaging and interactive.
A gorgeous Avenue filled with historic victorian homes. Many of them mansions, make up a stretch of 4.5 miles along Summit Avenue. There are walking tours available that do not go inside of the homes. Every other year there are tours inside of 10-12 of the houses put on by the Summit Hill Association. This easily is the prettiest street in all of the Twin Cities. Depending on when you visit, even if you're not able to go inside of the houses on a tour, taking a self lead walking tour to view the homes from the exterior is an option.
The Shadow Falls hike located in St. Paul Shadow Falls Park is such a hidden gem. It's a short hike with a gorgeous waterfall. Just be weary, in the spring and winter it can be incredibly slippery, muddy & wet. Be VERY careful! The last time I did this hike it was in the early spring and I almost biffed it numerous times into the mud! This small little slice of paradise is located between the University of St. Thomas and and the Mississippi River. You never would guess it's even there as you start off in a very residential type setting.
Fort Snelling is an iconic location located in St. Paul. It's a former military fort that has a lot of history. It's only open for visitors certain times of the year and not every day. If you're planning on visiting be sure to check in advance what the hours are.
The St. Paul Farmer's Market in Lowertown/Downtown St. Paul is such a fun thing to do after heading to brunch in the area. After strolling amongst the vendors with vegetables, fresh flowers & local homemade goods head to one of my favorite breweries that's nearby for a pint or two.
Como Zoo has many different attractions. There are the zoo animals, the gardens, art and different events/attractions. The best thing about Como Zoo is that they are open 365 days a year! This zoo is also free admission, but they do take donations if you're so inclined.
Keg and Case West 7th Market is an indoor food hall with many different merchants available. There are events that take place here frequently. In 2019, it was voted the best new food hall by USA today. The venue is a former historic brewery so it definitely has the industrial vibes going for it but it's been revamped and revitalized. This is a good place to go to try the local food and beer of St. Paul, Minnesota.
The Minnesota State Fair only occurs once a year at the fairgrounds in St. Paul. "The Great Minnesota Get Together" occurs from the end of August through Labor Day. Prior to the kickoff of the fair each year, they publish the new food items and more importantly the new beers. Many local Minnesota breweries plan all year to release state fair exclusive beers. Coming in second place as the largest state fair in the United States is an event to travel for. (Texas is the largest in the USA, go figure!) Throughout the year, there are other events at the fairgrounds.
What to do in the Twin Cities: suburbs
The state of Minnesota is home to the largest mall in the United States. Mall of America opened in 1992, with over 400 stores and attracting nearly 40 million people yearly. Located close to the Minneapolis/St. Paul Airport in Bloomington, Mall of America is a place where you could spend many days. The Mall of America now has hotels attached to the mall, many restaurants, a theme park, an aquarium and of course sooooo many stores and shopping. You can even get here using public transit from the Minneapolis St. Paul airport. One of my favorite times to go to the Mall of america is during the holidays. The decor puts you in the holiday spirit!
If you truly want to stay and play, your options attached to the mall include The Radisson Blu Mall of America or JW Marriott Mall of America.
Located south west of Minneapolis, this is one of the biggest lakes near the metro area of the Twin Cities. There are many options to rent pontoons or boats to enjoy the lake as well as restaurants that are accessible via the water. A few of the most popular bars and restaurants from Lake Minnetonka include Lord Fletchers & Maynards. Lake Minnetonka is a popular spot to be most weekends and especially holidays such as the Fourth of July when many Minnesotans are living that lake life.
Valleyfair is located in the Southeastern suburb of Shakopee. It's smaller version of a six flags if you're familiar with those theme parks. A theme park with standard roller coasters & rides as well as a water park section as well.
Other than the amusement park season Valleyfair typically offers an event around Halloween & an even with Christmas lights during the holiday season as well.
The largest zoo in the state of Minnesota is located in the southeastern suburb of Apple Valley. Located just a little south of Mall of America. If you're traveling with kids, between the Mall of America and a day at the zoo it would make a perfect family weekend.
Located in what has now been rebranded as the "River South" area of the Twin Cities Metro, Shakopee. The main events that take place here are the horse races however, there is also a 24/7 casino and the grounds sponsors onsite concerts as well. All of the details on horse races & other events are located on their website.
Mystic Lake Casino
Located in the suburb of Prior Lake, MN is the casino hotel Mystic Lake. Mystic Lake is more than just a casino, it's truly a destination in the southern suburbs. It features a hotel, casino, bars/restaurants, a spa and an upscale golf course. Mystic Lake even often has concerts and events onsite.
Top Golf locations are located all over the country. However, in Minnesota it's nice to have this option especially in the cold winter months. This is a year round destination to golf. If you're not into simulators in the winter, Top Golf would be the ultimate destination for you. All of the bays where you hit the ball from are climate controlled but it's a way different experience than an indoor simulator. At Top Golf they also have a full bar and restaurant so it's perfect for a fun afternoon or night out with friends.
The arboretum is located in Chaska, a suburb Southwest of Minneapolis. They offer events and seasonal gardens to explore year round. It's the oldest, largest and most comprehensive horticultural site within the state of Minnesota.
Minnesota's state fruit, the honeycrisp apple is grown here after the development by the University of Minnesota.
During the winter, they host holiday light events as well as pictured below.
More Minnesota Travel Inspiration
For your trip to the Twin Cities, be sure to check out my Minnesota packing checklist by season to help plan appropriately.
If you're visiting during the summer months, more inspiration for fun things to do here Minnesota Summer Bucket List.
For more Minnesota travel inspiration, check out my comprehensive Minnesota Travel Guide
Was there anything I missed that you think is a must-do in the Twin Cities? Click on the About Me section to send me an email!