The Ultimate Two Day itinerary for Yellowstone's North Entrance
This article may contain affiliate/compensated links. For full information, please see our disclaimer here.
About Yellowstone National Park
Yellowstone National Park is incredibly iconic. It was the first National Park in the United States established in 1872. Just this year it celebrated its 150th year. 11 years after Yellowstone National Park was established, the railroad made it much easier for the public to visit. Honestly, I just always remember watching Yogi bear as a kid stealing picnic baskets in "Jellystone".
With all of Yellowstone's unique natural beauty, it's a great place to visit with family, friends & loved ones. Spanning across three different states (Montana, Wyoming & Idaho) makes it a great location for a summer road trip. It's very popular to visit Yellowstone & Grand Tetons National Park in Wyoming within the same trip.
Yellowstone from the North Entrance a two day Itinerary
The north entrance of Yellowstone National Park is right by Gardiner, Montana. Gardiner is about an hour drive from Livingston, Montana or about an hour and a half from Bozeman, Montana. There are many vacation rentals and some really bougie resorts in between Yellowstone & Livingston. Alternatively, you can also stay inside of Yellowstone by getting a hotel or camping. But, it really just depends on the type of experience you want to have.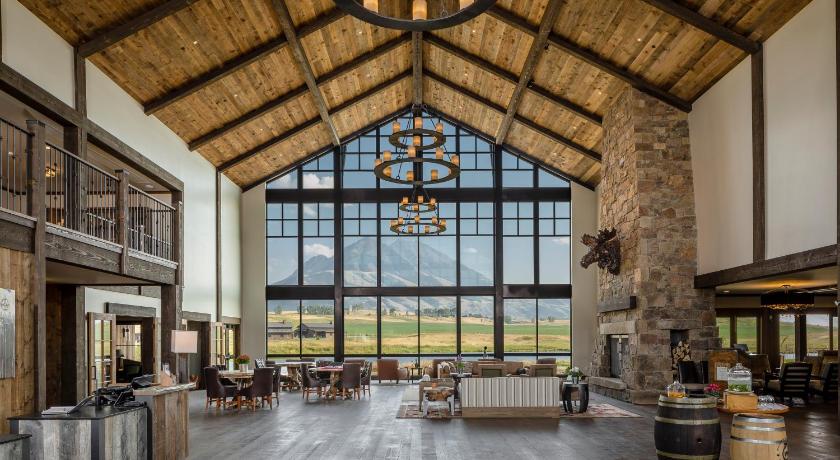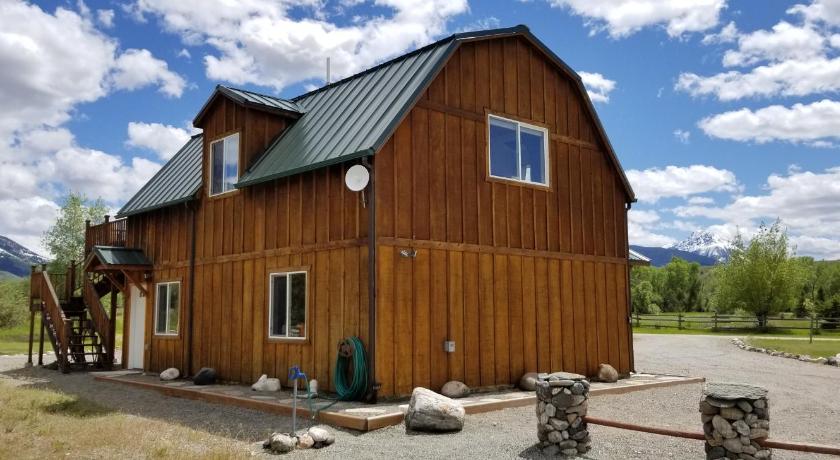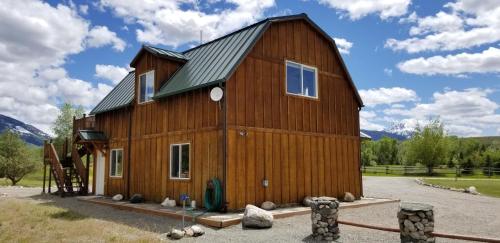 Day 1 in Yellowstone from the North Entrance

:
Drive from Livingston, MT to Gardiner & the North Entrance
As you make your way to the North Entrance of Yellowstone on day one of your two days in Yellowstone, near Roosevelt Arch is a small coffee stand offering espresso drinks and breakfast items called Bears Brew is located in Gardiner. Definitely stop to fuel up for the day! We stopped here both days for coffee and one day got a muffin & another a breakfast burrito. Everything was phenomenal I can't recommend them enough. Definitely get the white chocolate blueberry latte. It was so unique and tasty!
Roosevelt Arch
Spend some time driving under, walking under or near but at least snapping some pictures of Roosevelt Arch. It is one of Yellowstone National Park's most famous monuments. You definitely want to take some time to explore this arch as a part of your two days exploring Yellowstone. The arch now can be bypassed when accessing Yellowstone via the north entrance but in the past it marked the official north entrance into the park. Since Yellowstone was the first National Park in America, it served as visual flair standing 50 feet high and two flanking towers measuring 12 feet across to allow horse drawn carriages to pass through.
45th Parallel of Latitude
Along the road from the North entrance of Yellowstone there is a sign denoting the 45th parallel of latitude. This means that where this sign is located in Yellowstone National Park, it marks the halfway point between the equator and the north pole. Pretty cool that this is within America's First National Park.
Hike #1 Hellroaring Creek Trail
From Roosevelt Arch to Hellroaring Creek Trailhead it's about a 20 mile drive that takes just under 40 mins. Arriving at the trailhead early there should be ample parking. There are many different hikes you can take from this trailhead, but since we planned on a few other hikes throughout the day we opted for the easier out and back hike to the suspension bridge and back. This hike was a little over 2 miles and a relatively easy journey but I must note that it's mostly downhill on the way there, so the way back could take a little longer as you'll be hiking uphill.
There was a lot of fresh bear scat in the area, although we didn't encounter a bear it's definitely possible. Another group of hikers stated they saw a black bear about 45 mins earlier near the bridge. So, be prepared and have bear spray with you and most importantly, know how to use it!
Scenic Drive East through Lamar Valley
After hiking, take the time to relax in the car a bit by taking a scenic drive heading east through Lamar valley. In Lamar valley there are so many opportunities to see wildlife. I was blown away at the herds and herds of buffalo as well as other animals we saw. Be careful though, they will get close to your vehicle and do not approach them or get too close to them. Remember, it's not a zoo this is their habitat that you're in. Stay back to stay safe! Most cameras or phones have really impressive zoom features.
Throughout Lamar Valley there are many places to pull off alongside the road to view wildlife or just relax.
Hike #2 Trout Lake Loop Hike
After relaxing for a bit in the car and being blown away at the amount of wildlife in Lamar valley although it was sprinkling a bit, a short hike around Trout Lake was a great stop. This easy loop at just over one mile offers stunning views of the mountain reflecting off of the lake and the possibility for wildlife viewing as well. While we visited we saw two bald eagles & a cute little otter swimming.
Hike #3 Bunsen Peak Trail out and back hike
Heading back toward the North Entrance and Mammoth Hot springs area is a moderate but longer hike. Honestly, it felt a lot more challenging than moderate to me at 4.4 miles. The last 0.30 mile of the trail toward the peak on June 11th, there was considerable snow on the path. It was melty snow and plus had loose rocks so I was a little wary of stepping and needed to gather footing before trusting it. Once we reached the summit, it was so extremely windy! But, still definitely worth the effort for the amazing view out over Yellowstone and the North Entrance area.
As we finished the hike, we did notice an incredibly fresh scraping on the tree. So glad we didn't actually encounter the bear during our hike. But, it's always a possibility! Be bear aware and ensure you're carrying bear spray with you! It's very unlikely you'll have to use it, but you are in bear country so it's always better to be safe than sorry.
Golden Gate Canyon
As you head back toward the entrance and the Albright Visitor Center, you will see the Golden Gate Canyon area. You were able to see down into the canyon from the Bunsen Peak hike you just completed but I'm always an advocate for viewing things from different angles and perspectives. There are a few pull offs right off of the side of the road where you can see a waterfall and the canyon area that are definitely worth stopping at.
Albright Visitor Center
At the conclusion of day one, hit up Albright Visitor Center to get your National Parks passport stamp. This is the visitor center closest to the North Entrance of Yellowstone so you could even stop to ask any questions you may have at the beginning of the day. But, if you're like me you already have your day (mostly) planned and are hitting the ground running a lot earlier than the visitor centers open.
Day 2 in Yellowstone from the North Entrance

:
Entering Yellowstone from the North Entrance on day two, you're probably a little sore from hitting it so hard the day before but still super excited to explore more of what the Northern part of Yellowstone National Park has to offer.
Mammoth Hot Springs
Mammoth Hot Springs area is near the North Entrance of Yellowstone. It seemed like many of these hot springs were somewhat dormant until we got up to the upper terraces. We parked in the first parking lot and went around the right part of the lower terrance then moved our vehicle and completed the loop around the left side of the lower terrace. Then we chose to drive up and around to the parking area for the upper terrace. You can definitely just park in one spot and explore all over the lower and upper terraces. Just for times sake and due to the rain, we wanted to be as efficient as possible.
Artists Paint pots Trail
This short easily accessible trail is only a little over a mile (total distance) to walk along the lower part of the artists paint pots. The paint pots consist of hot springs, geysers & a few colorful little mud pots. (Hence, the name artist paint pots.)
Canyon Visitor Center
This visitor center is in an area where there are a lot of amenities. The visitor center, then there's a general store where they sell groceries, snacks, souvenirs and items you may need but have forgotten as well as a smaller sporting goods store. You can also rent bear spray from this area if you plan on hiking. Across the road there is also a gas station.
At this visitor center, there are museum like exhibits explaining the geothermal activity in Yellowstone National Park. As well as a huge map showing where the volcanic activity is and interactive explanations. I'm a complete nerd when it comes to maps so I really loved learning about this and why Yellowstone is so unique. Plus, I got another visitor center stamp as well!
Grand Canyon of Yellowstone
You'll enter the loop to view the Grand Canyon of Yellowstone that's a one way road. (Don't be like the people we saw and turn around and go the wrong way on the narrow one way. Insert face palm here!) This is the North Rim drive loop along the northern part of the Grand Canyon of Yellowstone. There are many parking areas to pull off along the different view points and even some small trails in the area. We had planned to hike the Canyon Rim South Trail to Artists Point but ended up skipping it due to the rain. Regardless of the inclimate weather Grand Canyon of Yellowstone was absolutely stunning. Aside from Yellowstone's more known landmarks of the Grand Prismatic Spring & Old Faithful in my opinion they don't have anything on the Grand Canyon of Yellowstone. Hands down this is what I would say is the must stop destination in Yellowstone National Park. Especially when visiting the park via the north entrance.
Listed below are all of the pull off spots along the North Rim drive of the Grand Canyon of Yellowstone:
All of these (aside from Artists Point) you can access by driving then parking and walking a short distance to the overlook or viewing platform.
Upper Falls View
This viewing platform you get near the waterfalls of the Yellowstone River within the Grand Canyon of Yellowstone.
Lower Falls
Personally this was my favorite turn off point along the Grand Canyon of Yellowstone. The platform is up close and personal by the rushing waterfall within the canyon. One thing I will note is the walk down to this lookout is quite steep down. On the way up it's not long but it's quite an incline. It's definitely worth the effort!
Lookout Point
The short paved path will bring you out to an observation point. You will see the views of the falls as well as the beautiful colorful walls that make up the Grand Canyon of Yellowstone.
Grand View Overlook
The Grand Canyon of Yellowstone is truly mesmerizing. Looking at it from multiple different angles and all of the view points is a must.
Inspiration Point
The view from inspiration point is gorgeous, but like the others a slightly different view of the Grand Canyon of Yellowstone. From inspiration point you can only see a little bit of the falls but it offers sweeping views of the canyon. Technically this is the last overlook that you can access without hiking by driving the loop and stopping at all of the lookout spots.
Artists Point
This is only accessible via a hike. If it wouldn't have been as rainy, I wanted to hike out to Artists Point. If it's great weather, definitely take the hike and check it out! I was super bummed I didn't get to do this. If the weather is nice, definitely take the time to hike out to Artists Point.
Hayden Valley
Not sure if it was the weather but there really wasn't as much to see in Hayden Valley in comparison to Lamar Valley. We ended up pulling over at the outlook area and eating our lunch but this really wasn't my favorite compared to the other things we saw during the second day in Yellowstone.
Sulphur Cauldron
You definitely could smell this before you even saw it! (Insert cheesy rotten eggs joke here.) You could just feel the heat radiating off of this area. There are many areas within Yellowstone where you can observe the effects of geothermal activity such as this. Mother Nature really is something else!
Le Hardy Rapids
This was another item we nixed due to the rain. However, these rapids are located on the Yellowstone river. (That was really rushing while we were there!) Which, sadly the very next day caused a lot of flooding and destruction in the area the next day causing Yellowstone to shut down for who knows how long at this point to ensure safety & repairs of the damaged structures such as roads and bridges. The cause of the flooding was due to the rain and also snow melt.
The main reason I wanted to visit Le Hardy Rapids was due to the fact that you can sometimes see the iconic cutthroat trout leaping upstream. Bear will often be there trying to catch trout for their next meal.
Wraith Falls Hike
This was another item we had decided to nix just due to the rain and weather. However, this hike is near the north entrance so it would make a perfect first hike of the day or one to cap off an itinerary if you were entering and exiting Yellowstone National Park via the north entrance.
Mammoth Hot Springs Hotel
Located in the lobby of Mammoth Hot Springs Hotel there is a map room where depending on the time of day you can have a coffee or cocktail. But, the map attraction you guessed it, is the large wooden map. Being a sucker for maps, I knew I had to stop and check it out. It was absolutely beautiful!
Seeing such a large scale map and taking a step back realizing my husband, dog and I have already traveled a considerable distance was really a wow moment for me. One of those moments in time you just want to realize you are capable of doing hard things and taking the road less traveled. Yellowstone is the second National Park that we visited along this relocation road trip as we left Minnesota and will be settling in Texas (my husbands home state.)
Follow along on Instagram for allllll of the shenanigans! Plus, we'll be sharing Vlogs on YouTube of our travels & RV living.
More Montana, Wyoming & Yellowstone Travel: